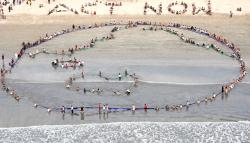 (Click for high-resolution photo)
For Immediate Release
GLOBAL YOUTH RALLY HUNDREDS TO CALL FOR URGENT ACTION IN BALI
Date: Sunday December 9, 2007, 16:00
Location: Kuta Beach, Kuta, Bali, Indonesia

An international coalition of youth, along with local and national NGOs, coordinated a striking aerial art project on Kuta Beach in Bali today. Artist John Quigley organized the crowd of over a thousand people to arrange their bodies to form an image of the world being washed away by the rising tide. Above this image, more people spelled the words "Act Now," a message designed to target the UN Climate Negotiations at the beginning of their critical second week.
"This was an extraordinary event for the global grassroots movement around climate change," says American youth delegate Will Bates. "The joint participation of local community groups and international activists was an inspiring symbol of how the world needs to come together to tackle climate change, the greatest challenge of our time."

When photographed from above, the image depicts half of the world awash in rising ocean waters, symbolizing how the nations representing the Global South will suffer the most severe impacts of climate change. Activists sponsoring the event are calling for a "Bali breakthrough" that would trigger the momentum needed for resolving the climate crisis. A successful Bali Mandate from this year's UN Conference would ensure there is no gap between commitment periods and that actionable items and processes are defined in Bali to work towards a 2009 consensus focused on strong and binding global emissions targets.

---
Professional photos of the event can be provided on request or at: http://www.stepitup2007.org/bali
Photo Credit: ©Greenpeace/Ardiles Rante & SpectralQ/John Quigley
Photo Caption: 600 people participate in a human banner message on Kuta beach in Bali, Indonesia organized by NGOs including Greenpeace and Global Green with aerial artist John Quigley. The image of the world being washed away by climate change, with the words ACT NOW is a message to the UN climate talks as they enter their critical second week of negotiations.
Press Contact: Phil Aroneanu – [email protected] – 081.338.997308