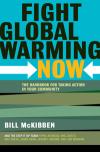 # 1: Back in June, the Step It Up­ team, along with help from April 14 Step It Up organizers all around, wrote a book to help folks think about effective organizing for the climate movement. The book will be out on Tuesday, October 16. For now click here to check out the book's website, which has all sorts of links to other useful books, magazines, websites, and online tools.
And if you feel like ordering the book, rest assured that all the royalties will be donated to the movement. Happy reading!
---
#2: Project Hotseat Materials: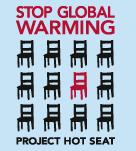 ­
Help educate the public and put Congress on the Hot Seat! Here are some materials that you can download, print, copy and distribute in your community.

1) Help us send thousands of postcards to Congress:
Download postcards here, print them, and then collect signatures at your Step It Up event, your church, community event, work or local farmer's market - just ask everyone!
Send any completed postcards to 702 H Street, NW, Suite 300, Washington, D.C. 20001

2) Educate the public:
Download a Project Hot Seat brochure to distribute in your community. This is an important way to help educate the public about the facts on global warming, and how they can get involved in efforts to create climate champions in Congress. Just download, print, and copy. You can pass them out on the street, at a club meeting, community center - any place that's appropriate.
3) Reach out and call Congress. Recruit people to call too!
Download a phone call flyer, copy, and distribute it at your Step It Up event or in any public space, put it on car windshields, get creative! Recruit friends, family, coworkers and the public at large to call Congress and ask them to Step It Up and address the 1Sky priorities. We need steep reductions in global warming pollution, and it's going to take every one of us to put Congress in the Hot Seat!
---
# 3: Step it Up with Youth Venture to plan your Nov 3rd event in your commuinty!
Youth Venture was started by Ashoka, the oldest, largest and fastest growing association of the world's leading social entrepreneurs. It is a global movement of young changemakers – Venturers – from around the world who have launched lasting social ventures that create positive impact in our communities.
Youth Venture is partnering with Step it Up to help youth plan their day of action on November 3 in your community and make it a success.
Youth Venture inspires and invests in youth to become social changemakers – thereby helping to change the local culture. Youth Venture provides coaching, resources, and seed funding (up to $1,000 per team) for teams of young people to create, launch, and lead sustainable community-benefiting clubs or organizations – otherwise known as a Venture. A venture can be almost anything a young person feels passionate about, and since global warming is the greatest challenge to our generation, organizing in order to create positive change through Step It Up is a great opportunity.
When developing a Venture, keep in mind it must:

Be created by, run by, and managed by youth ages 12-20
Be a new club, service, or organization
Provide a positive, lasting benefit to your community
Have clear goals, a committed team, and a clear and realistic budget
Have a non-controlling adult Ally who works with the team.
For details on how to Step It Up with Youth Venture, call
Step It Up Headquarters: 877.839.8957 or

Youth Venture: 866-923-9863, ext 3
---
# 4: Our friends down at Rock the Vote provide this great widget that lets you register to vote from this very page. Just click on the image to open up the widget:
Pretty cool, huh? To download the widget and embed it easily into your blog or website site, click here.
---
­
#5: Earth Under Fire: How Global Warming is Changing the World

is a comprehensive look at the world wide effects of climate change. In dramatic photographs, maps and quotes from world climate science leaders, this one-of-a-kind book shows how the earth is being changed right now.
---