---
By:Bridget Fithian
Step It Up Sierra was a great success!
We enjoyed a beautiful Autumn day of action in the Sierra Foothills. Approximately 70 people joined us for our first activity of the day- a march from the county court house to the Mariposa Art Park, including cyclists who road their bikes from El Portal for the event (29 miles!). Through out the day we saw several hundred people including The Spirit of John Muir (Lee Stetson).
During John Muir's presentation, we asked if he might write a piece in the spirit of his historical writings (which inspired congress to draft legislation to create Yosemite National Park) with the goal of inspiring congress to act legislatively on Climate Change.
After recognizing that he had been railroaded, Stetson consented to drafting a letter to Congress as The Spirit of John Muir.
Although Congressman Radanovich committed to sending us a statement to read at Step It Up Sierra, we did not receive his statement until after the event.
We celebrated the beautiful day and hope of inspiring our representatives to sign on to the 1 Sky Initiative, with the boot-stompin' tunes of The Trespassers.
Our community delighted in partaking of local wine vended by Yosemite Employee Assoaciation (YEA), food from Brenda Ostrom, and coffee from Mariposa Coffee Co.
We all learned new information about how we are effected by climate change from UC Merced's Dr. Kueppers, and how UC Merced is implementing Green systems from Dr. Elliott.
Some of the highlights: Event attendees received free compact florescent light bulbs from Janet and The Community Action Network, learned how to get involved in sustainable construction with The Chrysalis Institute, have new information on how their watershed works thanks to The Upper Merced River Watershed Council, and eight lucky adults and kids received free bikes from Chadwick and Sustainable Action. We learned about converting our diesels to recycled veggie oil thanks to American Vegetable Recyclers Heather and Dave. Balanced Rock gave us an opportunity to contribute to their publication "The El Portalian". Jon Paul Salonen and Ruth Smiley, from Blue Oak Ayurveda shared their delicious foods, teas, and knowledge of holistic healing. Mariposa County residents witnessed the power of solar energy as the Offline Solar Wagon powered our stage all day.
A huge THANK YOU to everyone who attended and contributed to Step It Up Sierra! Thanks for being a participant of Democracy in Action!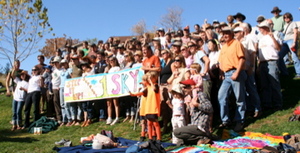 Mariposa and Yosemite Step It Up Sierra Style!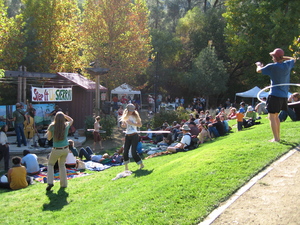 Hooping for Climate Change Action!
The Spirit of John Muir (a real leader) raises awareness about global warming
---
By:Granite Stanley
A large draw from such a small community
---
By:Bridget Fithian
A beautiful day of Climate Change Action in Mariposa.
---
By:Alex Keeton
Step It Up Sierra was a wonderful day of community action.
The following video was produced by Alex Keeton and his Mariposa Middle School students.